Tricks From Pro Stylists
Did you know you can figure out how jeans fit — without even trying them on? Sam Escobar from Good Housekeeping  shares some of those tips with us… 
1. Find out if a pair of jeans fits without a trip to the dressing room.
Ready for a mind-blowing fashion hack? According to Lauren Edelstein, Style Director at Shopbop, all you need to do to determine whether or not a pair of jeans will fit is to wrap the waist around your neck — if the ends meet without overlapping (or stretching), they'll fit your waist. "The neck trick is one I was skeptical about, but it really works!"
2. Make any outfit look great with just three key pieces.
Hate complicated fashion trends that only seem accessible to models and actors? It takes just three items to make literally any outfit look great, according to The Ambitionista's Heidi Nazarudin. "A face-flattering pair of classic sunglasses (preferably black), a gorgeous everyday leather handbag, and a smart pair of shoes you can easily walk in."
3. Test the waters of a bright color via lipstick or accessories first.
Anyone can wear patterns and bright colors — but if you're afraid of them, Nazarudin recommends wearing them as an accessory before you invest in a clothing item: Instead of trying on a bright citron-colored blouse, you can go for a cuff or bracelet, or even a lipstick."
4. A cowboy accessory can take the place of traditional jewelry.
Neckerchiefs can take the place of a statement necklace if you want a warmer alternative to jewelry accessories for fall and winter. "They're bold, bright, and eye catching, too, but feel a little more special," says Edelstein. "And bonus points if you pick a vintage one!"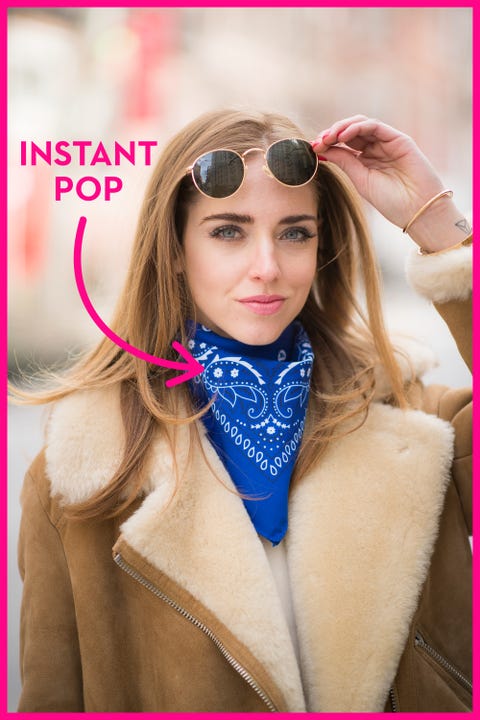 GETTY IMAGES DESIGNED BY DANA TEPPER
5. Weigh down a light scarf with earrings.
Secure a pair of gold vintage clip-on earrings to weigh the ends of a lightweight scarf down. "It creates a really rich and wearable accessory," says Yraola.
6. Maximize your shoe collection.
Want a pair of shoes you can wear all year round, no matter
the occasion? A pair of pointed-toe black pumps are essential, says Edelstein — they're seasonless, crazy flattering, and you can where them with absolutely
anything.
7. Pop a belt on for a put-together look.
Adding a textured, embellished, or a great colored belt is the fastest way to pull together the most basic pieces or quickly elevate a casual outfit, says Yraola.
8. Make the most of your bag.
If you want to change the look of a bag you love but feel a little bored with, fashion stylist Genevieve Yraola recommends tying a scarf to it — especially if it's a structured piece with top handles.
9. The key to making online shopping work for you: a tape measure.
You need to know your measurements — not just your size. "I'm a big fan of online shopping," says Nazarudin. "But I find that sizes vary across brands and even cuts, so memorize your shoulder, bust, waist, hip, and inseam measurements."
10. Make a basic hairstyle look way more impressive.
Accomplishing a Pinterest-worthy hairstyle isn't impossible, even if your skills are super basic! "Cool and modern trends like weaving silk into your braids can fancy up your hair and make it look like you tried a lot harder than you did," advises Combs.